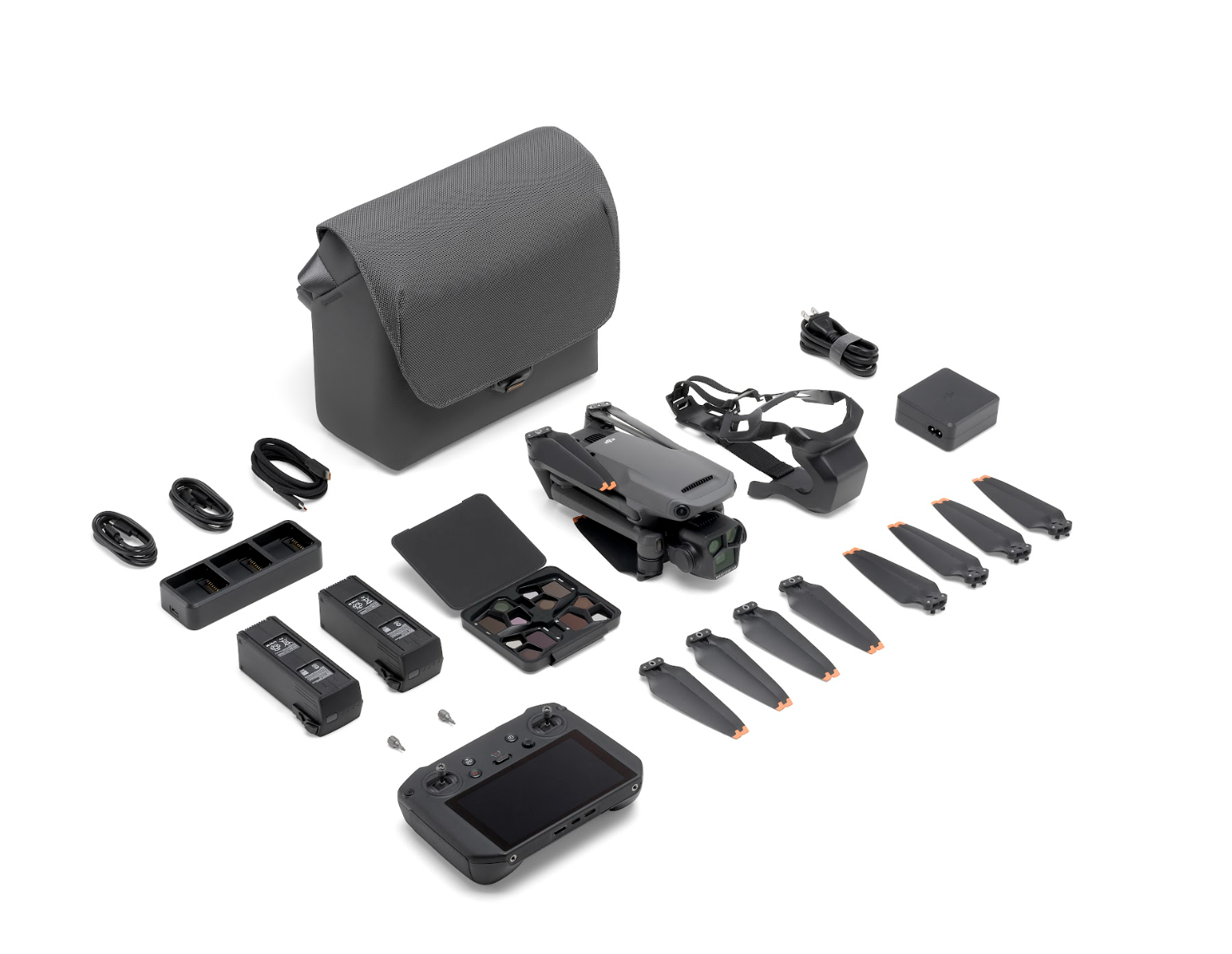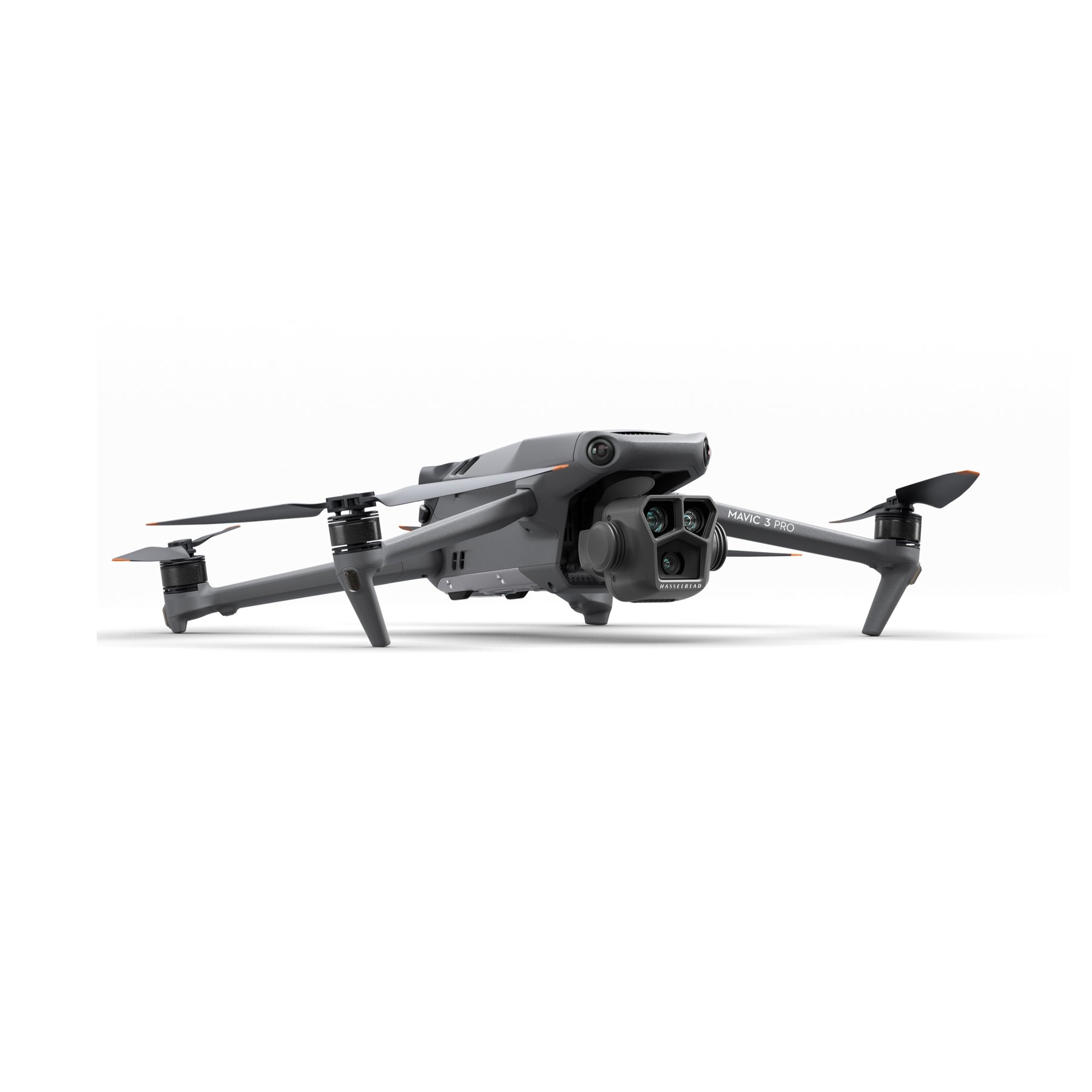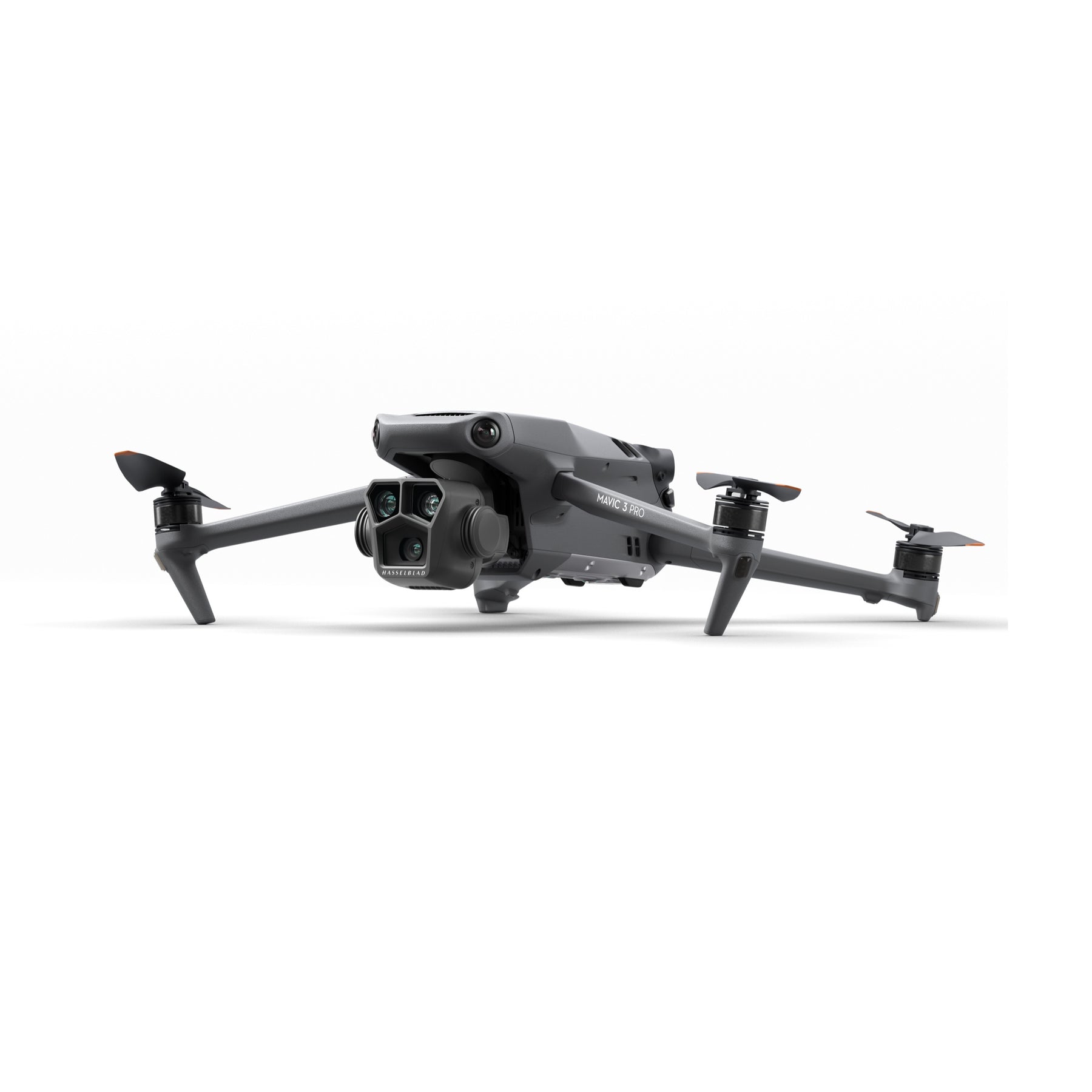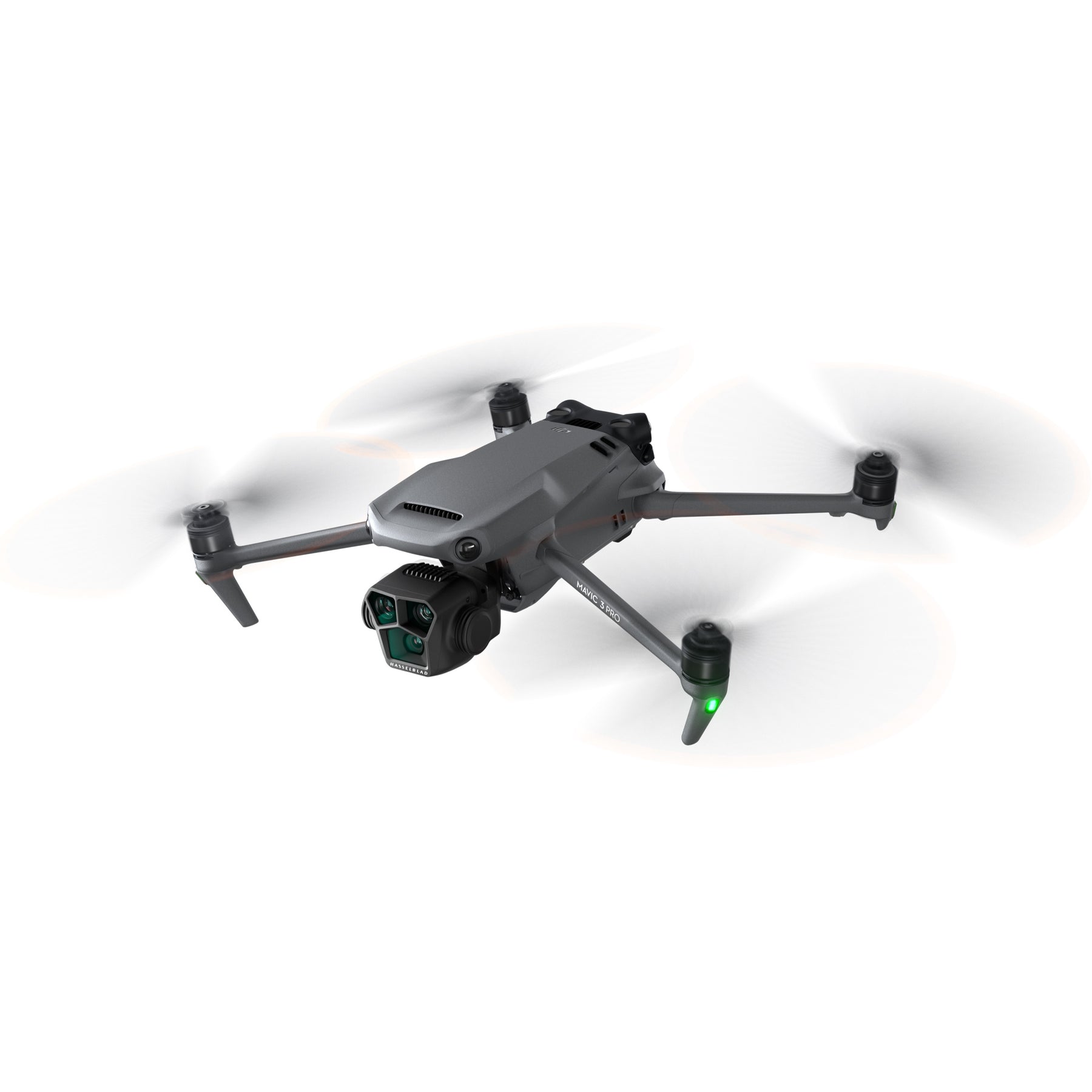 DJI Mavic 3 Pro Cine Premium Combo - In Stock
DJI Care Refresh:
No Thanks
 Order Now - Ready to Ship from May 9th 2023
4/3 CMOS Hasselblad Camera
Dual Tele Cameras
43-Min Max Flight Time
Omnidirectional Obstacle Sensing
15km HD Video Transmission
Tri-Camera Apple ProRes Support
| | |
| --- | --- |
| DJI Mavic 3 Pro Cine | X 1 |
| DJI RC Pro | X 1 |
| DJI RC Pro Control Sticks (Pair) | X 1 |
| DJI Mavic 3 Intelligent Flight Battery | X 3 |
| DJI Mavic 3 Low-Noise Propellers (Pair) | X 6 |
| DJI 100W USB-C Power Adapter AC Power Cable | X 1 |
| DJI 100W USB-C Power Adapter | X 1 |
| USB-C to USB-C Cable | X 2 |
| DJI Mavic 3 Battery Charging Hub (100W) | X 1 |
| DJI Mavic 3 Pro Storage Cover | X 1 |
| DJI Mavic 3 Pro ND Filters Set (ND8/16/32/64) | X 1 |
| DJI 10Gbps Lightspeed Data Cable | X 1 |
| DJI Shoulder Bag | X 1 |
Take a Closer Look
Flagship Tri-Camera System

With a 4/3 CMOS Hasselblad camera, a 70mm tele camera, and a 166mm tele camera, Mavic 3 Pro helps you create stunning works in various scenarios.

4/3 CMOS Hasselblad Camera

The Hasselblad camera shoots 5.1K/50fps and 4K/120fps [1] with a f/2.8 - f/11 range. The 10-bit D-Log M mode records up to one billion colors.

Apple ProRes for Pro Creation

Mavic 3 Pro Cine has triple camera Apple ProRes codec support. It also has a built-in 1TB SSD [2] and a 10Gbps lightspeed data cable.

43-Min Max Flight Time

 

[3]

Mavic 3 Pro gives you more confidence to fly further while enjoying aerial photography creation. Execute every step during a single flight.

Omnidirectional Obstacle Sensing

 

[4]

Mavic 3 Pro allows you to fly even in complex environments. Eight sensors and powerful computing engine sense obstacles and plan a safe route.

15km HD Video Transmission

 

[5]

DJI O3+ supports a transmission distance of up to 15 km and 1080p/60fps live feed, for smoother control.

Thrilling Immersive Flight

Experience immersive FPV when you use DJI goggles along with the DJI RC Motion 2[6]. Enjoy true-to-life colors, accurate details, and motion controls that make flying captivating.
Returns
will be accepted for unopened Items within 30 days of purchase and 15 days on products determined to be faulty at time of manufacture (Determined by DJI)
. Returned merchandise can be exchanged for identical replacements or a refund of the purchase price. Merchandise cannot be returned if it has been damaged as a result of improper use or accident. Please contact us via our Contact Us for an RMA number prior to shipping your product(s) to us. Products sent to our office without an RMA number will be sent back to the shipper with shipping charges to be collected. Please Note Enterprise Drones are subject to return / exchange directly to DJI under Warranty.
• Please read the following shipping instructions carefully. Product that arrives damaged in shipment, without an RMA number or without appropriate warranty information, will be, returned to the sender non-repaired. Products, damaged through neglect due to improper packaging or in shipment, will have the warranty voided and will be processed and returned to you non-repaired. Note: An example of improper packaging would be sending a product back in an envelope.
• Only products and quantities authorized through the Return Material Authorization process will be accepted. If your RMA packing list is in error, ie. Wrong product description, wrong model number, wrong capacity please contact DronePoint Customer Support prior to shipment.
• All products require stable and sufficient packing material, needed to protect the product from ESD (Electro Static Discharge) influences and possible damage during transport. Required Packaging Steps:
A. Place item in ESD (Electro Static Discharge) Bag (For electronics only.)
B. Wrap with 2 inches of bubble wrap or non-movable foam cushioning
C. Place in sturdy cardboard box. Do not use chipboard, as it is not strong enough to withstand the rigors of transit. Please make sure the corrugated carton is free from defects and is structurally sound. Note: Returning an item in an envelope, will void the warranty.
D. Please write the Return Material Authorization number on outside packaging, on three sides in bold print.
E. When shipping multiple items, each item must be, packed as above, items must not directly touch each other and cannot move inside the packaging. All products must be, packed in individual anti-static bags and in a sturdy cardboard box. Please utilize original packaging when available. DO NOT USE peanuts or packing material that can shift or settle during transit. Warning: Returning an item in an envelope, will void the warranty.
• Send your product to the address located on our Page. Retain a record of your RMA number and all tracking/shipping numbers for your records. This will allow DronePoint to better serve you with possible inquiries.
• Your Return Material Authorization number must be visible on 3 sides of the box. Any package sent in without an RMA number will be returned to you non-repaired.
• Use a traceable carrier. Use a traceable carrier for transport or a signed for service (i.e., Airborne, Fed Ex, UPS, XpressPost, etc.) with the post office (Canadian customers only) as they provide you with a tracking number and proof of delivery. The cost of sending an item to our service center for warranty service, is paid by the customer. DronePoint pays for the return shipment. If upon arrival your products are out of warranty the shipment will be returned to you at YOUR COST.