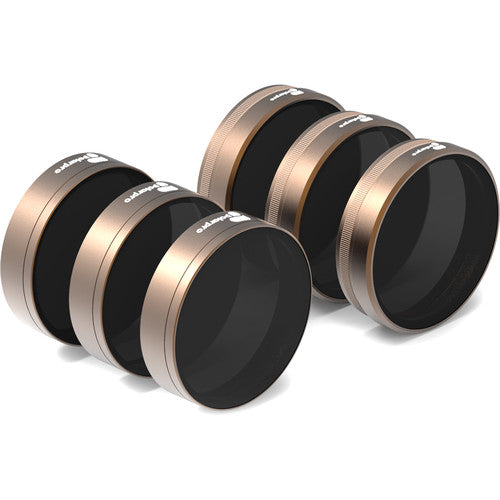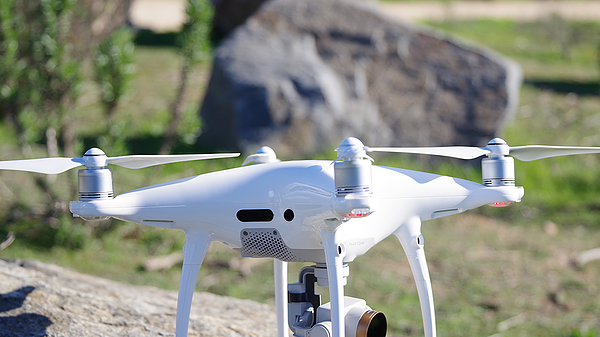 Polar Pro - Phantom 4 Pro Cinema Series 6-Pack (ND4PL, ND8PL, ND16PL, ND4, ND8, ND16)
IN STOCK - READY TO SHIP
Precisely engineered for the DJI Phantom 4 Pro (fits P4 Pro only)
Cinema Series multi-coated glass for pristine optics
Feather-light design for smooth gimbal operation
Includes ND4/PL, ND8/PL, ND16/PL, ND4, ND8 and ND16 filters
Special edition anodized aluminum frame
Includes protective storage cases
Lifetime Warranty

Overview:
Included in this set is both the Cinema Series Vivid Collection and Shutter Collection. The Vivid and Shutter Collections are part of PolarPro's Cinema Series line featuring the highest-grade glass and coatings, delivering perfect optics. The Cinema Series is for pilots who demand the absolute best. The Cinema Series for the DJI Phantom 4 Pro feature an aluminum frame. The 6-Pack contains ND4/PL, ND8/PL, and ND16/PL, ND4, ND8, and ND16 filters, for reducing shutter speed, removing glare, and increasing color saturation. Each filter is manufactured with PolarPro's AirFrame featherlight design for smooth gimbal operation. The Cinema Series for the DJI Phantom 4 Pro comes with a lifetime warranty ensuring they will last.
Cinema Series™ Glass: PolarPro's filter collection using the highest end glass and coatings available for pilots who demand the best. Cinema Series glass has a high light transmission and a low refractive index. 
Airframe™ Construction: PolarPro's filter design specifically for aerial filming. Feather-light construction utilizes a precision threaded aircraft aluminum frame for smooth gimbal operation.
Included Filters:
2-Stop Neutral Density + Polarizer (ND4/PL) (5.67g): This filter reduces the camera's shutter speed by 2 f-stops and polarizes light. We use this filter most often when filming at dusk or dawn, or on cloudy days. 
3-Stop Neutral Density + Polarizer (ND8/PL) (5.6g): Reducing the camera's shutter speed by 3 f-stops, the ND8/PL is the perfect filter for partly cloudy days. The polarizing aspect of this filter reduces glare and increases colour saturation.
4-Stop Neutral Density + Polarizer (ND16/PL) (5.6g): Our go to filter when it is sunny out, the ND16/PL reduces shutter speed by 4 f-stops and polarizes the scene for capturing vivid colours on bright sunny days. 

When To Use:
The following guideline is a good starting point for when to use each filter while filming with your Phantom 4, Inspire 1 or Solo. The goal of this chart is to reduce the camera's shutter speed to 1/60th to give aerial videos a smooth cinematic look, rather than a choppy high shutter speed look. A popular way of filming aerial video is to have your shutter speed at double your frame rate. So, if you are shooting 1080/60, then you want to try to achieve a 1/120th shutter speed. Or, if filming 4K/30 or 24, you will want to be near 1/60th shutter speed. 
Returns
will be accepted for unopened Items within 30 days of purchase and 15 days on products determined to be faulty at time of manufacture (Determined by DJI)
. Returned merchandise can be exchanged for identical replacements or a refund of the purchase price. Merchandise cannot be returned if it has been damaged as a result of improper use or accident. Please contact us via our Contact Us for an RMA number prior to shipping your product(s) to us. Products sent to our office without an RMA number will be sent back to the shipper with shipping charges to be collected. Please Note Enterprise Drones are subject to return / exchange directly to DJI under Warranty.
• Please read the following shipping instructions carefully. Product that arrives damaged in shipment, without an RMA number or without appropriate warranty information, will be, returned to the sender non-repaired. Products, damaged through neglect due to improper packaging or in shipment, will have the warranty voided and will be processed and returned to you non-repaired. Note: An example of improper packaging would be sending a product back in an envelope.
• Only products and quantities authorized through the Return Material Authorization process will be accepted. If your RMA packing list is in error, ie. Wrong product description, wrong model number, wrong capacity please contact DronePoint Customer Support prior to shipment.
• All products require stable and sufficient packing material, needed to protect the product from ESD (Electro Static Discharge) influences and possible damage during transport. Required Packaging Steps:
A. Place item in ESD (Electro Static Discharge) Bag (For electronics only.)
B. Wrap with 2 inches of bubble wrap or non-movable foam cushioning
C. Place in sturdy cardboard box. Do not use chipboard, as it is not strong enough to withstand the rigors of transit. Please make sure the corrugated carton is free from defects and is structurally sound. Note: Returning an item in an envelope, will void the warranty.
D. Please write the Return Material Authorization number on outside packaging, on three sides in bold print.
E. When shipping multiple items, each item must be, packed as above, items must not directly touch each other and cannot move inside the packaging. All products must be, packed in individual anti-static bags and in a sturdy cardboard box. Please utilize original packaging when available. DO NOT USE peanuts or packing material that can shift or settle during transit. Warning: Returning an item in an envelope, will void the warranty.
• Send your product to the address located on our Page. Retain a record of your RMA number and all tracking/shipping numbers for your records. This will allow DronePoint to better serve you with possible inquiries.
• Your Return Material Authorization number must be visible on 3 sides of the box. Any package sent in without an RMA number will be returned to you non-repaired.
• Use a traceable carrier. Use a traceable carrier for transport or a signed for service (i.e., Airborne, Fed Ex, UPS, XpressPost, etc.) with the post office (Canadian customers only) as they provide you with a tracking number and proof of delivery. The cost of sending an item to our service center for warranty service, is paid by the customer. DronePoint pays for the return shipment. If upon arrival your products are out of warranty the shipment will be returned to you at YOUR COST.